Sustainability in the digital world
A look at sustainability in the digital world and how individuals could reduce their digital footprint
Continue reading...
---
Get your head out of the clouds!
June 11, 2020 by Charlotte J-R
Where do all your beautiful photographs live? Where do all the "dealt with" emails live after they are read? Both your pictures and the emails are examples of your data. Your data lives in Data Centres, and Data Centres are the first layer of cloud computing.[1] Every email in your inbox can be accessed from whichever device you log in on, the emails do not take up space on your device until purposefully downloaded. The emails are stored in the "Cloud", and your data cloud lives in a physical location called a Data Centre.[2]


The technology age
In a world deep in the 'Technology Age', Data Centres are fundamental infrastructures for information technology and cloud services.[3] Despite the seemingly weightless name, your data in the cloud still has a giant physical footprint on Earth. There are millions of Data Centres around the World. The largest presently (May 2020), is in Langfang, China, which spans almost 110 football pitches.[4]
Your devices act as a portal to access data from a Data Centre. By opening an application (e.g. your photos) on your device, a request is delivered to the Data Centre to recall the information. The data recall is not specific, it retrieves all the data in the application for you, so even the 22 selfie attempts that you deemed 'not good enough' to post on social media. These trivial copies of your data still take up space until you delete them or you find yourself purchasing more cloud storage space to store them.
With a simple 'click' there is always a lot of data being sent back-and-forth.[5][6] Photos, for example, will remain stored and possibly even backed up in the Data Centre until deleted by you. It is this unfiltered stream of data which may not be necessary that is driving the rapid filling up of Data Centres and the demand for more to be built.[7] Furthermore, currently most of us have access to free cloud storage which is capped at a certain amount, but our increased usage could soon start costing us more to purchase extra storage space required.
As our demand for more data storage in the cloud increases, the need for more Data Centres increase. In other words, the rate of data consumption drives the need for more Data Centres to be built. These data centres may be constructed in varying sizes, but they all require the same nine components.[8] Land, power and cooling are the three critical components of any Data Centre, with cooling being the most important. It involves controlling the temperature and humidity to ensure continued and stable operation of the data centre.


What does this cost the environment?
Out of the total cost of any Data Centre, 10-15% goes into providing the energy required for cooling.[10][11] This energy requirement could be reduced by 60% if the data centres were to move to colder climates such as the pristine Arctic.[9][12] Yet this begs the question; what are the consequences of building these heat-producing facilities above the arctic circle for the sake of reducing running costs? In any case, you the customer will still be charged for the additional cloud storage you may need.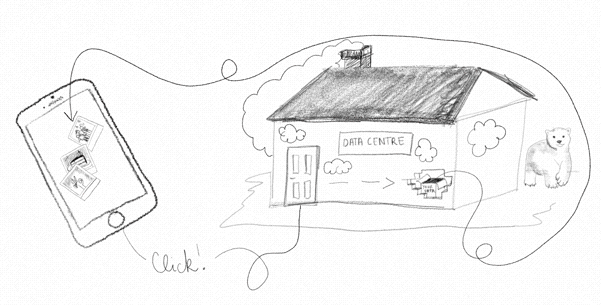 Is there another way?
Yes, there is an alternative way, a cleaner way to address the issue. We can choose to reduce the amount of data being stored in Data Centres by relieving of trillions of never to be looked at again digital trinkets and in the process slowing the need for more Data Centres to be constructed. This also has an added bonus of you not requiring the extra cloud storage any time soon and as a result, saves you money.
All considered there is an urgent need for a virtual shredder for data. Whatever your chosen battle is, veganism or greener technology, reducing your contribution of trivial data (blobfish data) maybe the best way to 'go green'.
Sources: